Share If You Care
The noble venture 'Share if you Care' gives each Thomasanian the opportunity to awaken himself to the needs and desires of fellow schoolmates who are less privileged than him. We are proud to declare that ever since it has become a habit amongst Thomasanians to pool in funds by the21st of every month in order to help meet the educational expenses of their financially challenged counterparts. After all, Charity begins at Home.
THE GOOD SAMARITAN WEEK-Celebrating Xmas in a Unique way!
Helping hands are better than praying lips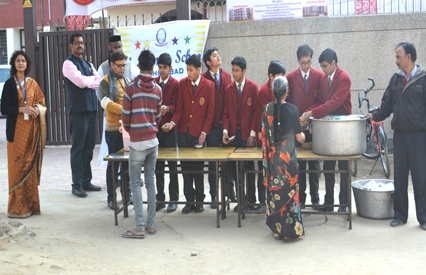 St. Thomas School, Sahibabad organises Good Samaritan Week every year in december, to celebrate Christmas in a unique way. Christmas which is an epitome of lovng, caring and sharing was amply visible in the actions of the students. During the week, Thomasanians visited various orphanages, Leprosy homes and tried to bring smiles on the faces of the less privileged.
Giving credence to the adage, An ounce of help is always better than a pound of preaching. Thomasanians visits and donates myriad basic items such as woolens, used clothes, tooth paste, hair oil, soaps, biscuits, stationery, cold cream, socks, slippers, woolen caps, jam, etc. to laprosy homes ,schools for special and physically challenged children and orphanages in Ghaziabad.